to email Alvin Curran...
his web site curator, Susan Levenstein...

Download a 1000-word resumé (in pdf format), updated as of February 2013.
a slightly briefer version or a 250-word version may be particularly helpful for program notes, etc.
Scaricare una breve biografia in italiano (pdf), aggiornata ad aprile 2011.

Click on any publicity photo for a larger, higher-resolution, downloadable version:
In Südwestrundfunk studio, Baden-Baden, 2006. Photos Frank Halbig.
At Mills College, Oakland, 1996. Photos Marion Grey.
Ferrara, 2002. Photos Claudio Casanova.
left: during performance of Oh Brass On the Grass Alas, Donaueschingen, October 2006. Photo Hans Kumpf.
right: at the D-22 in Beijing, September 2006. Photo Susan Levenstein.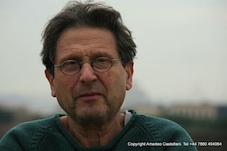 At home in Rome, December 2009. Photos Amedeo Castellani. Contact web curator for high-res versions without overlaid text.
Rome, March 2012. Photos Angela Caitlin.
Rome, July 2012. Photos Mariateresa Barbieri.